Our California tour continues. Three hours north
of San Francisco we entered magical Mendocino County.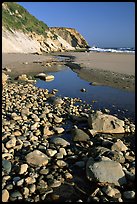 It felt like driving at Le Mans as we whipped around
curves
on the winding coastline road. Redwood and cypress swept down the hills until huge rocks kept them from falling into the sea.
We visited the town of Mendocino with our friend, Les.
It is so perfectly perched on the pristine headlands I doubt anyone can afford to live there.
Sure, people own the two million dollar cottages but if you had that kind of money would you live in a cottage?
I know people are there serving lunch. In a rustic cafe a gnome brought us steaming bowls of chowder.
Gnome Bike Rack
They're all over the place, happy, hippy men with snow white beards flowing over tie-dyed shirts.
One guy pedaled past with his hair and his beard in braids.
Many of the women are similarly haired and dyed.
While tourism is huge here, the biggest industry is growing dope. We saw no evidence of it except for one well-kept store, "Herban Legend".
People love this place for its cuteness
but more important, the spectacular scenery.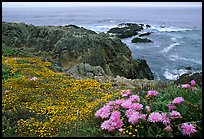 Unlike Coconut Grove, the good folks there have preserved acres of open land between the town and the sea.
Two Miami friends preserve their sanity by heading there every spring. Les and Norma live eight miles north in Fort Bragg, Ca. We'll visit them and their sixty-degree weather next.
Lost in the trees,
G & F'ca