There is so much to love about Coconut Grove, especially the quirky old houses that peek out of our jungles. Sadly, we're quickly losing many of them.
Look around, developers are tearing down residences in every part of the Grove. They are doing this daily without neighbors being informed (as is required).
Consider the lovely,1940 New England-style home around the corner from us, at 3600 Hibiscus St.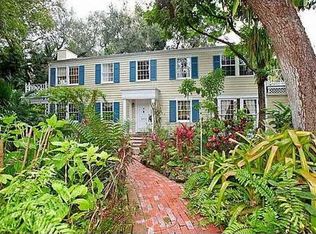 Janet Reno grew up next-door. It was a "star", used for several movies and many commercials. This wooden gem was the pride of our neighborhood until last month.
A huge yellow monster ("Kobelco") ripped it apart three weeks ago.
The rubble-filled lot is now on the market for $1,595,000.
No doubt some builder will leap at the chance to replaced this gracious lady with a couple of modern mega-cubes,
white boxes that could double for doctor's offices on Coral Way.
It's too late to save Miss New England but you can help protect another historic house.
She has stood proudly at the corner of Park Ave. and Douglas Road for 100 years but is now slated for destruction.
To help, go to the link below and sign the petition,
It's a worthy effort but the Grove needs much more.
We've got to stop the developers who "sell the Grove" from destroying it. Don't let them tear our unique neighborhoods down, one house at a time.
Many communities have succeeded in preserving their pasts. We must join together to save what we love about Coconut Grove. To begin this effort we can,
1) Contact the Grove's public officials... the mayor, our commissioners. Ken Russell and Xavier Suarez were both at last week's preservation meeting.
2) Revise the city's historic preservation system (and building code) to make it more effective and to allow the public to be informed of every application for a demolition permit (ie. before the permit is issued).
3) When permits (sometimes called "waivers") are issued, the neighbors must be informed of the planned demolitions (this is "required" but this is not apparently being carried out by the City of Miami),
4) Consider making the Grove a historic district. It worked for Morningside, in Miami's upper east side.
4) We must continue the public debate (as was evidenced at last Tuesday's meeting) on demolition permits, lot-splitting, and the new mega-residences that wipe out our trees.
If we don't do these things the Grove won't be so special anymore. Developers will cover us with concrete.
Let's continue the public gatherings. Grove 2030's Historic Preservation Committee is having a meeting on Wednesday, May 4th, at 6:30 p.m. It will take place at the Glass House in Peacock Park.
Working together we can find ways to preserve what we love about Coconut Grove.
_______________________________