Boulder, Colorado is at the base of Rocky Mountain National Park. This national treasure is one of the few places where you can drive up, up, up to reach snow in July.
Swooping though the two-mile high alpine tundra feels like flying.
We soared in our van for a hour then wound our way down.
Soon we were camping in the green meadow where the Colorado River begins.
The gentle brook in which we we dipped our tired feet gathers enough volume to carve canyons from here to Mexico. The Grand Canyon is only one of its many creations. Our route west kept us next to the mighty river for the next three days.
Sauntering into the woods we passed a herd of elk, fly fishermen, and later, a 1000-pound moose.
You can't ignore the millions of dead pine trees in this park and all over the west. Drought and warmer temperatures have allowed the deadly pine beetles to kill millions of them.
Fifty years from now the dead forests will be green again, replaced by other species.
We learned why the trees are skeletal at a park ranger campfire performance. The young man wearing a Smokey hat also talked about the elk that were grazing nearby. He brought out two skulls attached to magnificent antlers.
Every fall the bulls compete for the love of the "women". They do this by smashing head-on into each other until one of them says "Eeuh!" (elk for "Enough!"). These two unfortunately got their antlers locked together. They starved to death that way.
The things we do for love.

Francesca and I are long past the initial mating ritual stage. We're now exploring the west on our way to California. We will spend a few weeks there, until it's time for Francesca to return to her Miami job. I plan to stick around for Burning Man, a fantastic festival taking place in the Nevada desert every August. I haven't been able to get a ticket yet but if I am persistent enough, I think I'll be dancing under the stars with 70,000 other "burners" a month from now.
_______________________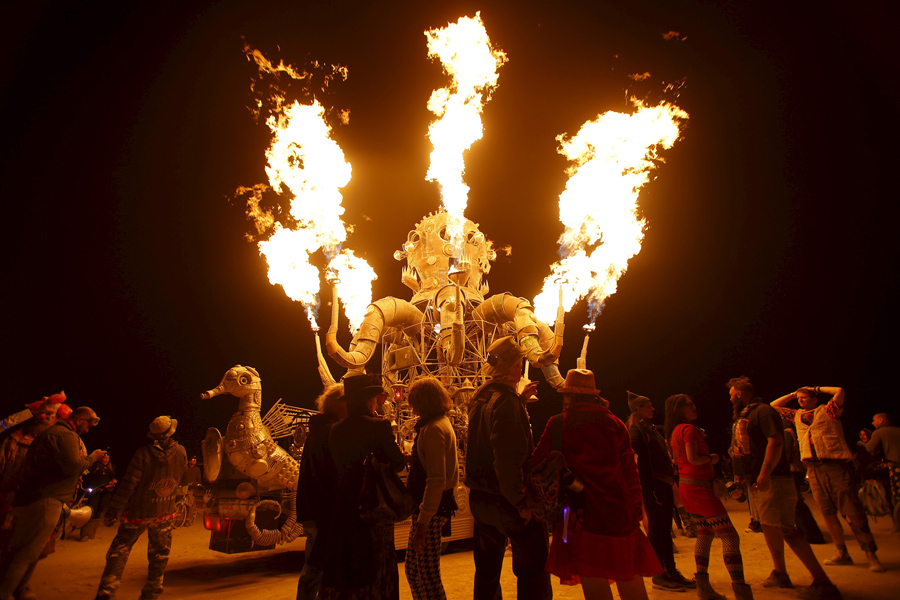 ____